Dancing Horses, Inc. Presents
Tesoro de la Danza
1995 Grulla Paso Fino Stallion

BEAUTIFUL both inside and out!
His name means "Dancing Treasure"
And he really is a treasure!

Sweetest Temperament you could ask for
in a Stallion.

But with BRIO! He moves with pride!
His Color is so gorgeous
It changes with the light!
Click here to view his PEDIGREE! It reads like the
Who's Who of the Paso Fino World!
Majestuoso, Hilachas, Sonador, Autumn Breezes, Tesoro Salago, Muneco, Mr. Puerto Rico
Grand National Champions and top 10 sires!
Fast Smooth Largo!
Excellent Conformation and size.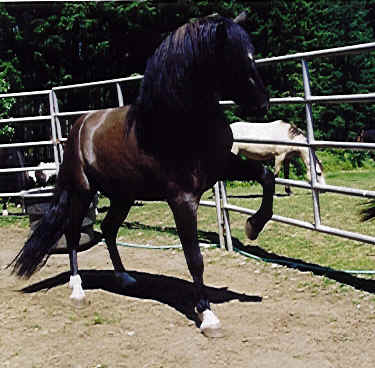 COLOR! All the Dun factor Markings! And he passes it on!
Click here for list of colors and sex of foals to date.
This Stallion epitomizes all the best traits of the breeds that comprise the Paso Fino!

The hardiness of the Barb.

The natural presence, grace and athletic ability of the Andalusian.

But most important and treasured, the sweet temperament and incredibly even and smooth gait of the Spanish Jennet.




---
If you breed your mare to Tesoro, here are the possible colors of your foal
from Equine Color Genetics by D. Phillip Sponenberg, DVM, PhD
Click on Photos to Enlarge.
The above photos were all taken on the same day.
His coat really changes color depending on the lighting!
Breeding Fee is $650
Standing to a very limited number of approved outside mares in 2001.
For more information on breeding to
Tesoro de la Danza
Grullo Paso Fino Stallion
or